WallScott Solutions. - Chicago, USA

Wireless Excel data distribution

A Chicago based financial company trading on the Chicago Board of Trade needed a way to present traders on the exchange floor with the results of real-time Excel analysis being generated back at the corporate office. WallScott were asked to find a solution that would allow the traders to see the results of the analysis while they worked in the trading pit on the exchange.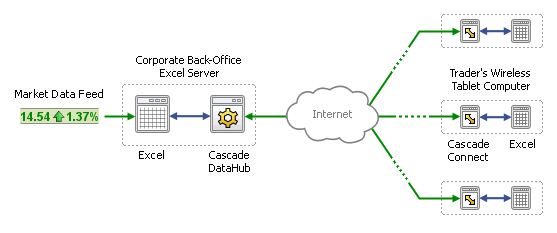 Simple, fast installation, drag and drop configuration

WallScott Solutions installed a Cascade DataHub on the back-office server to collect the real-time analysis results from the Excel application. Cascade Connect* was installed on each of the tablet computers and configured to access data from the DataHub over the Internet. WallScott helped the customer drag and drop live data from Cascade Connect into the spreadsheets on the tablet computers. With these spreadsheets now displaying live Excel analysis results, the traders are able to make faster, more effective trade decisions. The customer is now looking to expand the system to provide traders with the ability to sit at home and trade commodities on other world markets, right from their home or tablet computers.

*

Note:

Since this application was finished, the Cascade Connect program has been superceded by the new version of the Cascade DataHub. In the diagram above, the new DataHub would be installed on both the server and tablet computers.