OPC to Web using ASP (Active Server Pages)
DataHub Web Browser - ASP support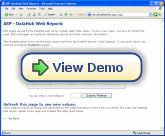 Using DataHub ASP scripts, you can easily create web pages that display the most recent value for points in the DataHub.

ASP scripts allow management and production staff to access data from the factory floor, on a demand basis. This means, the data is retrieved from the DataHub when the user loads (or refreshes) the web page.

ASP scripts embedded in the web page are run by the DataHub each time the page is requested by the end-user. The scripts then generate the page content dynamically before sending the page to the web browser. This is also called "server-side scripting".
Demo OPC to Web on your own computer

Want to demo this technology on your own computer? It takes only a few minutes to download and install the new DataHub Web Server Demo. No programming required.
Server-side benefits:
ASP web pages require very little system resources on the server.
ASP pages can be viewed by a large number of people at the same time, without any significant increase in network bandwidth requirements.
The DataHub scripts used to build your web pages can incorporate data from other sources, such as databases and text files.
No other web server software needs to be installed.
No point count limitations. Supports virtually an unlimited number of data points.
Web sites can be password protected and connections secured using SSL.
ASP pages designed using DataHub scripting give you complete control over the page design.
Browser-side benefits:
ASP is supported by nearly all web browsers on the desktop, hand-held devices and cellphones.
No special plug-in or ActiveX objects need to be downloaded.
Page starts to display real-time data as soon as the connection to the DataHub is established.
ASP scripts can be written to pass data back from the web browser to the DataHub, giving the application a fully bi-directional data flow.
More Information