OPC to Web using Java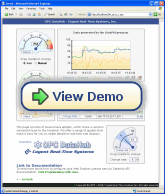 DataHub Web Browser - Java support

Embedding Java applets in a web page provides the fastest possible updates of live data to a web page. You can easily build web pages using the Java applets we provide, or design your own applets, so your web page looks exactly the way you want it. The Java applets embedded in the web page share a separate, dedicated TCP/IP connection to the DataHub. This helps provide high update rates, while consuming very little system resources. Once connected, the applets display new data values as soon as they change in the DataHub, without the need for the user to refresh the web page.
Demo OPC to Web on your own computer

Want to demo this technology on your own computer? It takes only a few minutes to download and install the new DataHub Web Server Demo. No programming required.
Server-side benefits:
Java web page connections are extremely fast and place very little load on the server.
No other web server software needs to be installed.
No point count limitations. Supports virtually an unlimited number of data points.
Web sites can be password protected and connections secured using SSL.
Browser-side benefits:
Java applets provide extremely fast updates while running at very low system resources.
Our Java support requires the standard Sun Java Plug-in, which is automatically downloaded if it is not already installed on your computer.
Page starts to display real-time data as soon as the page is downloaded and the connection to the DataHub is established.
Fully bi-directional data flow, so you can read and write data in the web page.
We provide example code to show you how you can build your own Java applets if you don't like the ones we ship with the DataHub.
No page refresh required. The web page continues to display new values as soon as they change in the DataHub, without the user having to do anything.
Browser support for Java

Java applets require the Java plug-in be installed on your web browser. Some mobile devices do not support Java applets, or may not support a full Java implementation. However, most desktop web browser will automatically download and install the plug-in if it is not already running on that computer.

More Information